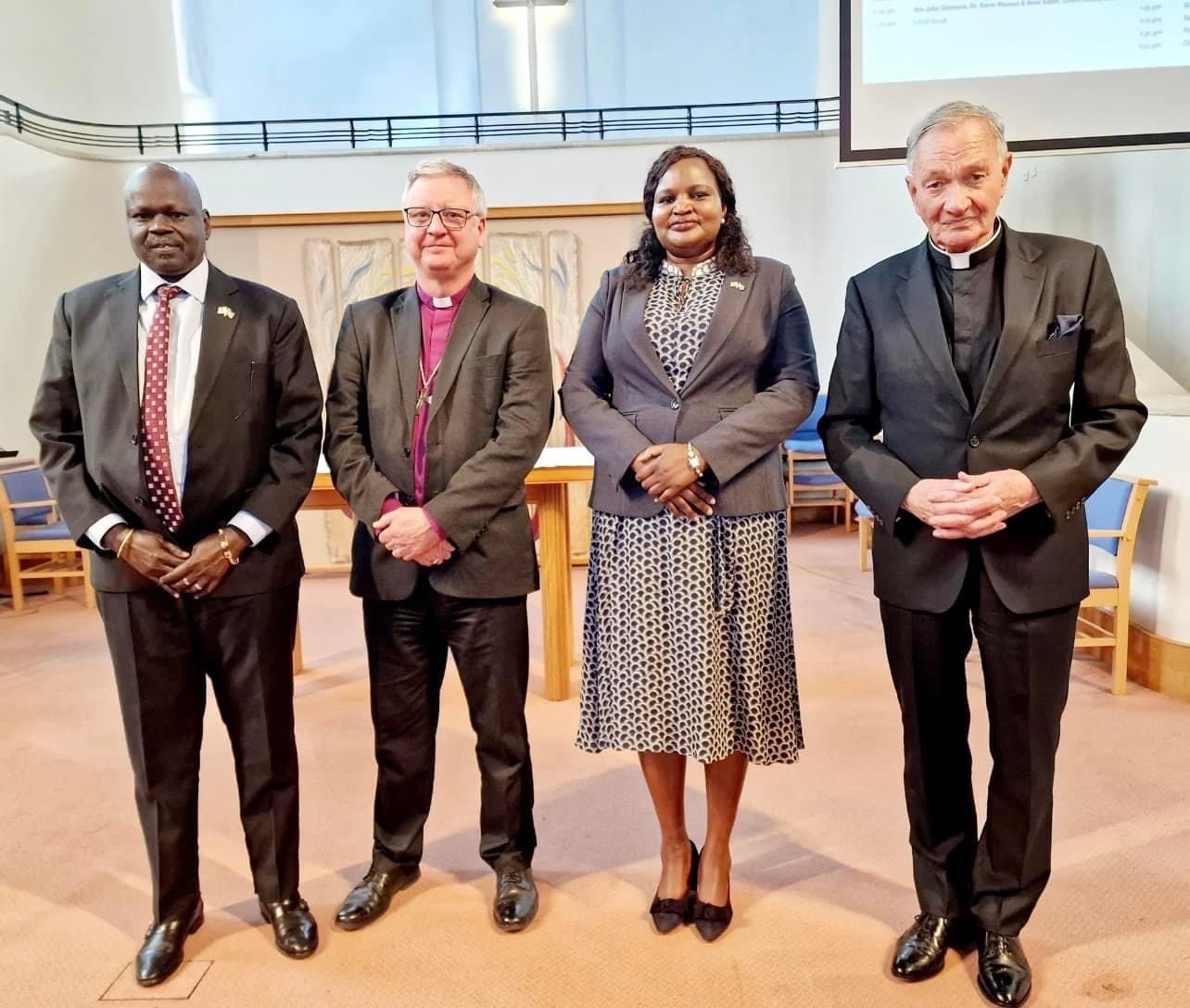 Pictured: Ambassador Agnes Oswaha, Bishop Stephen, Dr Anna Butchart, Revd Canon Ian Woodward.
The Salisbury-Sudan's partnership is amongst the most active in the Church of England and last Saturday, 18 March 2023, the Salisbury-Sudan's Partnership held their annual 'Sudan's Day' to update the many supporters from across the diocese and beyond. They were joined by Bishop Stephen, Bishop Andrew, Her Excellency Ambassador Agnes Oswaha, the South Sudan Ambassador to London and Dr Anna Butchart, the Deputy Head of the Sudans Unit in the Foreign and Commonwealth Office, among others.
Canon Ian Woodward, Chairman of the Salisbury Sudan's Partnership shares this encouraging extract from the day with us:
"The issue of greatest concern is the continuing ethnic conflicts in both countries: South Sudan and Sudan.
"After a welcome from Bishop Stephen, Her Excellency Ambassador Agnes Oswaha outlined her government's plans for peace and the nationwide elections to be held in 2024 and the opportunities for people across the country to take part in more localised government. The UK Government with the United States and Norway known as the Troika are guarantors of the peace agreement that led to the division of Sudan and South Sudan.
"Dr Anna Butchart updated participants on UK's continuing brokerage efforts to bring an end to the fighting, for without peace our efforts in education, health care and development can so easily come to nothing.
"Robert Hayward gave a presentation on his recent visits to Khartoum Juba and Abyei reporting on the needs of the Episcopal Churches in Sudan and South Sudan and how and where our funds are being spent there.
"Dr Karen Mounce and Mrs Anne Salter updated the group on our flourishing Sudans Medical Link. Where they recently spent two weeks in Western Equatoria visiting the 16 clinics the medical links supports with dispensing basic drugs and the training of midwives and clinical assistants.
"Canon Jeremy Cresswell outlined our work with four theological education colleges and a number of Church Schools that we support, and Dr Eeva John shared the progress being made with the Episcopal University in Rokon in South Sudan.
"Deanery Links are at the heart of the partnerships thinking and Sarah Musgrave gave a refreshing presentation on forming Marlborough's link with an agricultural project in the Diocese of Morobo on the border with Uganda.
"So the Salisbury – Sudan partnership remains ever more engaged and active as it has over the past 50 years."