Below are a series of prayers from a range of different traditions and sources for churches and individuals to use, as the Diocese continues to advocate for welcome and hospitality for those fleeing to the UK for sanctuary.
The first prayer has been written by Bishop Karen, as Portland prepares for the arrival of refugees onto the Bibby Stockholm barge in the port.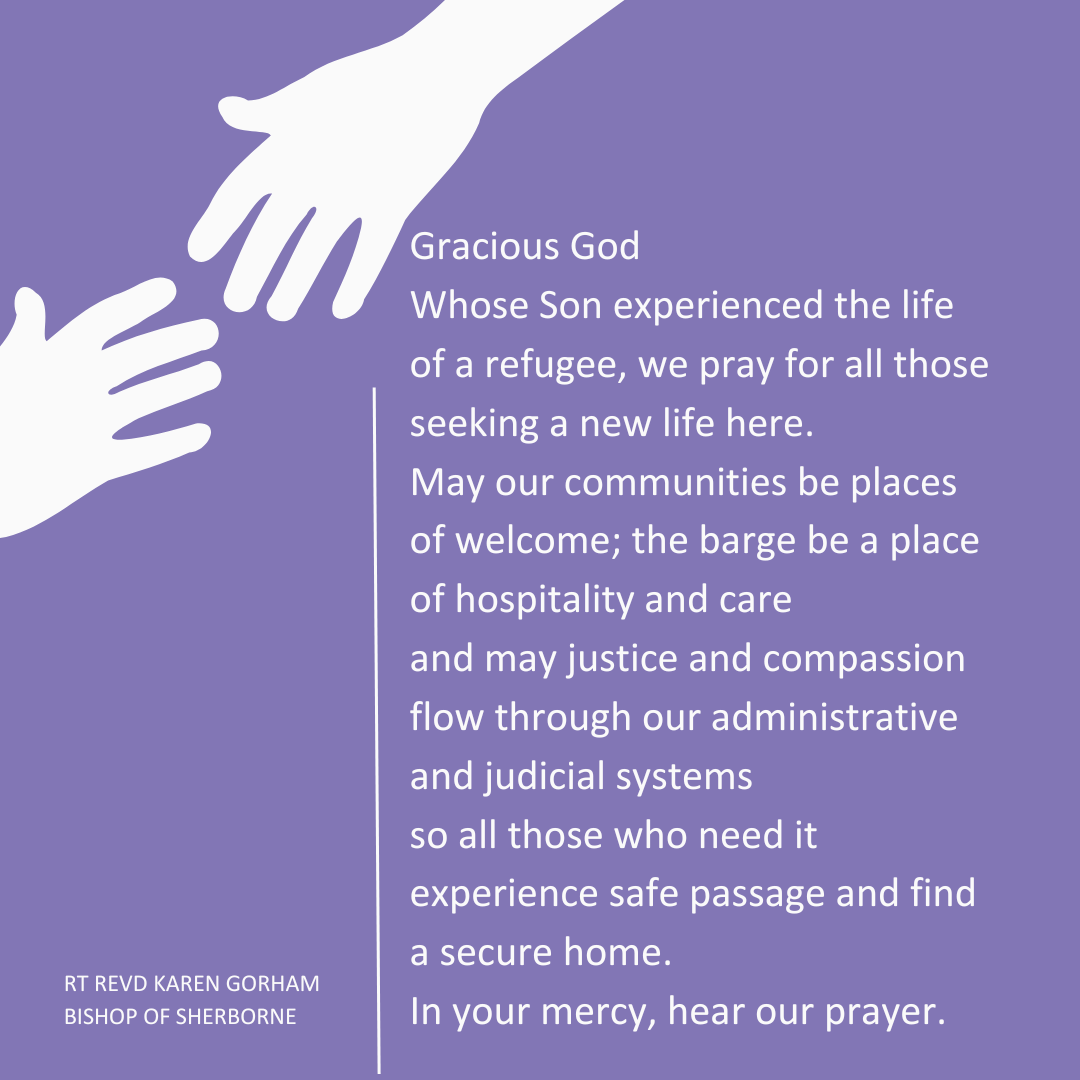 Church of England Prayers For Refugees
Almighty and merciful God,
whose Son became a refugee and had no place to call his own;
look with mercy on those who today are fleeing from danger,
homeless and hungry.
Bless those who work to bring them relief;
inspire generosity and compassion in all our hearts;
and guide the nations of the world towards that day when all will rejoice in your Kingdom of justice and of peace;
through Jesus Christ our Lord.
Amen.
Bless all who seek refuge on this earth. Meet their needs for safety and for home. Move the hearts of your people to show them welcome. Cause wars to cease and bring justice to the nations that no one will need to flee again.
The Pope's Prayer for Immigrants
Merciful God,we pray to you for all the men, women and children who have died after leaving their homelands in search of a better life.
Though many of their graves bear no name, to you each one is known, loved and cherished.
May we never forget them, but honour their sacrifice with deeds more than words. We entrust to you all those who have made this journey, enduring fear, uncertainty and humiliation, in order to reach a place of safety and hope.
Just as you never abandoned your Son as he was brought to a safe place by Mary and Joseph, so now be close to these, your sons and daughters, through our tenderness and protection.
In caring for them may we seek a world where none are forced to leave their home and where all can live in freedom, dignity and peace.
Merciful God and Father of all, wake us from the slumber of indifference, open our eyes to their suffering, and free us from the insensitivity born of worldly comfort and self-centredness.
Inspire us, as nations, communities and individuals, to see that those who come to our shores are our brothers and sisters.
May we share with them the blessings we have received from your hand, and recognize that together, as one human family, we are all migrants, journeying in hope to you, our true home, where every tear will be wiped away, where we will be at peace and safe in your embrace.
Pope Francis
God of love and compassion: may we always recognize your spirit:
• in the refugee family, seeking safety from violence;
• in the migrant worker, bringing food to our tables;
• in the asylum-seekers, seeking justice for their families;
• in the unaccompanied child, traveling in a dangerous world.
Give us hearts that break open whenever our brothers and sisters turn to us.
Give us hearts that no longer turn deaf to their voices in times of need;
Give us eyes to recognize a moment for grace instead of a threat.
Give us voices that fail to remain silent but which decide instead to advocate prophetically.
Give us hands that reach out in welcome, but also in work, for a world of justice until all homelands are safe and secure.
Fr. Dan Hartnett S.J.